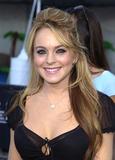 Lindsay Lohan is crazy of making money and tries to sell her thanksgiving photos where she was pictured together with mother Dina, sister Ali, her brothers and boyfriend Riley Giles to several celebrity magazines.
At first, she demanded a six-figure sum, but eventually dropped the price to $20,000 when she failed to find a buyer.
A source told MSNBC: "She thinks she's a huge star. She thinks everyone is dying to read about her, but she's lost her fan base. Her decisions are being driven by cash, not repairing her image."
Source
Tweet